Airport Transfers & Other Bus and Coach Services in Sydney, Melbourne and Brisbane
Whether you are travelling to Sydney, Melbourne or Brisbane for business or pleasure Executive Coach Charter has a solution for you.  We have coaches with drivers to accommodate 1 – 60 passengers. We specialise in airport transfer and conference exhibitions, private charter, school charter, and day excursions. 
Specialty Services & Day trips
Shipping wharf transfers
Leisure day charters
School Charter
Camping trips
School shuttle services
Private Coach Charter
Wedding ceremony, reception, and rehearsal dinner
Graduation party
Hen's and Buck's night party
Birthday celebration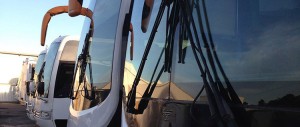 Airport transfer services are available for for individuals and groups of all sizes.  Our friendly drivers will greet you at the airport and make sure you get to your hotel safely.  When your trip is at it's end our staff will ensure your return to the airport goes smoothly.
Contact us today to find out more about our low-cost Sydney, Melbourne and Brisbane

Have a conference or seminar coming up for your staff?  We can help.
We offer comprehensive transport services for any size group.  Our friendly logistics staff will be happy to help you plan all your transport needs, from hotel to meeting sites, day excursions, onsite training, or after hours dinner events and award ceremonies.
Our private charter services will make your special event a memorable one.  Wedding coach hire, graduation parties, the ultimate birthday bash, Buck's & Hen's night parties, whatever you desire our staff will help you plan your night and take care of all your transport needs.
You can count on your friendly driver to get you where you need to be safely so you can enjoy your time with friends and family.
Comprehensive school charter services are available for all your needs.  Day excursions for all age groups.  You tell us where you want to go and how many are going and we will take care of the rest. Sports transfers, special events, academic competitions, travelling performances in the arts, or ski trips, Science camp, or even school shuttle services we can take the worry out of getting you there.
Whether you need transportation for small groups or the whole school, we can arrange hassle free transport for your students, parents and staff.
We offer speciality services such as shipping wharf transfers and the possibilities for day trips are endless.  Charter a coach with driver to see the races, visit the carnival days, or pick any leisure day activity that you can imagine and we will take you.  Do you want to try that golf course you have heard so many things about, book your tee time and our driver will get you and your group to the course.
No matter if you are in Sydney, Brisbane or Melbourne, Executive Coach Charter always have the best vehicles at the lowest rates around.
Online quotes available now, please fill out our simple quote form on this page.