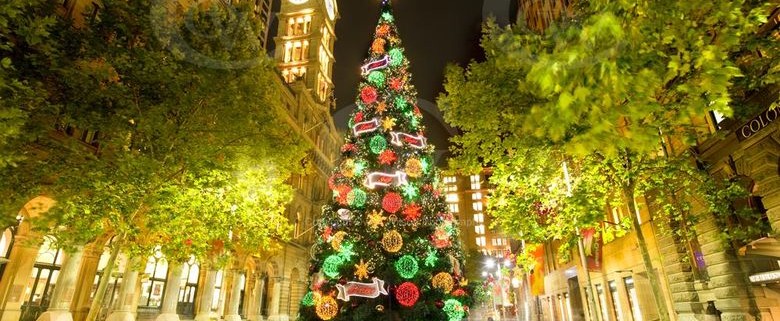 The Christmas holiday period and New Year in Sydney are widely celebrated and there are numerous festive activities taking place all over the city. Apart from the climax of the Sydney Harbour world famous New Year Fireworks celebration there are many events leading up to the turn of the year.
Christmas 2015 in Sydney should be the leading event held in the city. It all starts with the world famous Christmas concerts with an exciting and massive night of music spread over numerous venues including. Martin Place, Surrey, Alexandria and Hyde Park.
Apart from the annual traditional events there is also some fun stuff that is taking place.
Big Santa Hunt:
Nine Santas are busing dashing around Darling Harbour each with a letter. If you can locate the mad Santas and retrieve the letters and spell a word then a free Christmas present is up for grabs.
Santa Fest – Darling Harbour
Even more of the daring Santas at large but this time on stilts. All our merry St. Nicholas's will be perched above the waters of Darling Harbour in an attempt not to fall into the turbulent water.
Santa Fest Water Spectacular – Cockle Bay Wharf
Firstly there is a grand parade then Santa spectacularly arrives on a water sleigh, which is actually a vintage 1930's boat. After follows fun and frollocks including a fireworks display and the lighting of the giant Christmas Tree at the Convention Center.
Music and Fireworks
A weekly Saturday night firework display is held at Cockle Bay from 24th November to the 22nd December and Christmas Eve.
This precedes the big firework display to end all the Santa activity and to welcome in Christmas day. Before the illuminations take place there will carol singing around the tree to add that Christmas flavour.
Try taking a trip to Sydney Town Hall over the festive period as there are some spectacular projections taking place.
On Boxing day the Sydney to Hobart Yacht race begins. The race finishes in Tasmania on New Years Eve 2016.
Leading up to Christmas a must see event is the St Mary's Cathedral play with spectacular 3D projections and sound. Nightly before the illuminations, choirs from all over Sydney sing carols.
The projections do not stop at Hyde Park, take a walk down to Martin Place to see some of the most iconic buildings in Sydney come to life in colour and music.  
For tourists and locals alike one of the best ways of spending Christmas Day is to visit Bondi Beach. But be prepared to share the occasion with thousands of other people. For those who are not residents of Australia it will come as a bit of a surprise to be lounging on the beach rather than huddled in a cosy house somewhere. But the fun will be great, with plenty of Santa hats blending in with sunburnt bodies.
New Year's Eve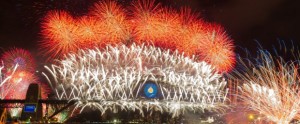 Sydney is one of the first cities to welcome in the New Year in the world and likes to show off that fact in spectacular fashion.
The most popular activity is to watch the amazing firework display over Sydney Opera House and Harbour Bridge a scene that millions of people worldwide witness on TV.
The evening's festivities take place at 6pm followed by a music and lighting display on the pylons of the bridge. Then there is a flotilla in the harbour of over 60 boats and they too have their own individual lighting. The evening culminates in the famous 12 minute firework extravaganza.
If the bridge area is too crowded then there are numerous other events taking place across the city. Darling Harbour is a very popular destination with live music events and plenty of outdoor drinking and eating stalls set up for the evening.
Wherever you decide to spend your Christmas and New Year in Sydney there is a vast array of venues and events to enjoy and spend your time.
When the time comes to organise your Christmas event then Sydney Executive Coach Charter are ready to assist with the logistics.
For great rates on mini bus and coach hire, contact our friendly team today!