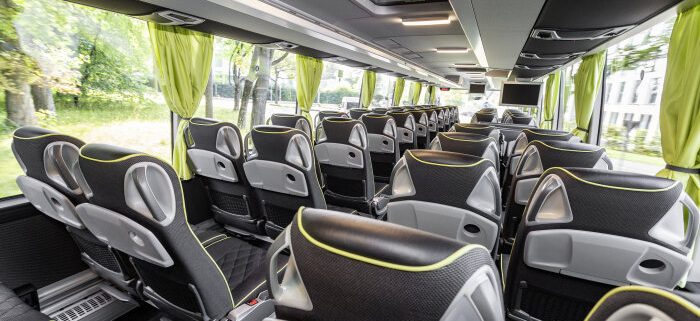 Sydney, Australia is a world renowned city filled with beautiful sights to see, beaches to relax on, restaurants from every different culture and activities to experience. With Sydney being such a large city there are many different environs for you to visit that include; Bondi, Watsons Bay, Coogee, Maroubra, and much more! It is hard to experience everything possible in a small amount of time as Sydney is a magnificent city with beauty all around but with it being so big. We offer Coach Hire Sydney with driver for groups of any size with our wide range of fleet. There is no better way to tour Sydney than booking your group trip through Executive Coach Charter. Organize your group together now and request a quote online for free and see how our expert bus services can match your needs. Get your free quote on our website.
Sydney, capital of New South Wales and one of Australia's largest cities, is best known for its harbour front Sydney Opera House, with a distinctive sail-like design and Sydney's Eastern Suburbs are home to some of the best area's best known attractions such as: Bondi Beach, Coogee Beach, Bondi to Coogee coastal walk, Watsons Bay, La Perouse, Nielsen Park, and much more. These areas without a doubt are eccentric locations for you and your group to visit and explore while on your time in Sydney. Reserve your Sydney Coach Hire for the most affordable bus services in Sydney which will start your trip off the best way possible.
Make your day fresh by Swimming at Bondi Beach
Be sure to swim or surf in the world famous Bondi Beach! Make sure you surf on the north & south side of the beach and swim in between the red and yellow flags. After soaking up the sun on the beach, what you need to do is just step towards one of the restaurants right up the steps from the beach for a tasty meal and a refreshing drink.
Spend a splendid day and Shop in Bondi Junction
Head into Bondi Junction to find much more restaurants, pubs, and shopping! For those who love to shop Bondi Junction is a great place for you, you can get up to date with exclusive brand-name fashion stores and check out many different boutique shops with plenty of different shopping centres. We can have your charter buses waiting for pick-up wherever and whenever you like!
Lavish walk from Bondi to Coogee Coastal
This is a 6km walk that begins in Bondi and allows you to esteem the beautiful coastline almost the whole way to Coogee. At Coogee you can take a dip in the ocean or head into town where there is even more shops, restaurants, cafes and pubs. Being refreshing this coastal walk is a one of a kind walk you can never forget that.
Ending with Dine in Watsons Bay
There are also some historical cliffs called "The Gap in Watsons Bay also some." The Gap is a very interesting place for Sydney's history and also offers some great views of the CBD as well as the vast ocean horizon. Headed into, Watsons Bay for some of the freshest and tastiest seafood selection in all of Sydney. Watsons Bay is known to be the oldest fishing village in all of Australia.
What More You Can Cherish With
Some other places to visit while in the Eastern Suburbs including La Perouse, Nielsen Park, South Head, Randwick, and much more. Each town within the Eastern Suburbs offers something a little different than the other. All consist of beautiful views, Sydney history, great restaurants, great shopping opportunities and also exciting nightlife. The Eastern Suburbs is a great place to explore and with so much to do there, be sure to have a trustworthy transport service ready to pick you up and drop you off at each location specifically on your group's own time schedule.
What other advantages you can enjoy when you have arranged a big trip
Safety first having an assigned driver encourages everybody to unwind and appreciate the happiness without agonizing over driving long separations at odd hours. A gathering bus will guarantee that you and your fellows find a good pace the setting securely, and doubtlessly, glad!
Lets' face it, getting everyone to the setting in one transport isn't just increasingly advantageous however path less expensive instead of travelling independently. That, but on the other hand it's significantly progressively fun.
Some of the visitors with you have a driver's permit up 'til now, while others will most likely be unable to drive. Procuring a bus everyone welcome to the arrives, and, arrives on schedule.
Who wouldn't care for having the additional advantage of having the option to bring along bites and beverages in transit to a gathering area? A bus permits you to bring your snacks and beverages along so your visitors can appreciate being accompanied like genuine demigods.
Getting into the trip spirit before arriving at a venue is significant on the off chance that you wish to appreciate the night. A bus permits your visitors to begin the gathering right where they are before finding a workable pace. Or on the other hand, the vehicle can be the setting as your visitor's party progressing. It doesn't get better than this, now does it?
Looking to book high quality and affordable Bus Hire?
When planning your Sydney bus rental, you can hire a bus to ensure travel flexibility and convenience for your group and yourself. We provide the most affordable, comfortable and safest charter service to ensure you get the best value stress free airport transfer.
Executive Coach Charter, amongst all other companies, is an expert in hiring a bus for trips, events or any other occasions. If you have been instructed to plan your next business tour, family reunion or friends gathering, then there are many reasons to invest your hard-earned money in bus service. Let the professionals handle your plan and all of its details. Save your time, this is an advantage of getting on board a luxury bus service in Sydney.