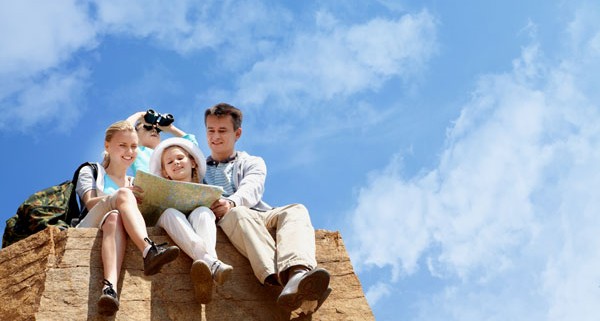 Family Friendly Accommodation 1 of 3 in Sydney Hotel
The Parkroyal Hotel in Darling Harbour, Sydney
Sydney is a fabulous city for families.  Sydneysiders are active, outdoorsy, and there are plenty of activities for people of all ages.  We are doing a series on the most family friendly hotels in Sydney and what makes them so great for families.  Sometimes it is location, sometimes it is amenities geared toward entertaining families.
With the school holidays recently upon us many Australians are taking vacations with their loved ones.  Sydney is an ever popular destination for families.  Sydney is full of culture, educational opportunities, family friendly activities, dining options geared toward families and theme parks packed full of information on conservation, going green, and lessons for children to understand they too can make a difference.
The Parkroyal Hotel in Darling Harbour, Sydney is centrally located in the Sydney CBD.  The location with it's proximity to so many family friendly activities makes it one of the most family friendly resorts in Sydney.  The Parkroyal Hotel is less than a ten minute walk to Chinatown, Queen Victoria Building, Sydney Entertainment Centre, Sydney SEALIFE Aquarium, and Sydney Wildlife World.
Rooms
The Parkroyal Hotel has a number of different room styles designed to suit many different needs.  Each 31 m2 room is set up with either double twin beds or a single King.  Different views are available, and there is a choice for an Executive Suite if this is a working trip.  The Executive Suite is more than double the size of the other rooms at 71 m2.  The Executive Suite is a one bedroom suite with separate living area.  The Club Suite is a smidge smaller than the Executive Suite and offers gorgeous views for relaxing.
All rooms feature a myriad of electronics for entertainment, a 40" LCD tv, in-room movies, iPod docking station, LAN and WiFi access, a hairdryer, and an ironing board.  In addition to the restaurants on property all in-room dining is also available, and each room comes with a fully stocked minibar, coffee, and tea making facilities.
Rooms and suites begin at $245 – $445 AUD.  Prices subject to change depending on availability.
Dining
Barkers Restaurant
Serving breakfast beginning at 6:30 am daily is Barkers Restaurant.  Barkers is located on Level R inside the hotel.  This space not only works for breakfast but also makes a fantastic spot for meetings.  The contemporary space is comfortable, and the hotel's WiFi is accessible while sitting at Barkers.
Abode Bistro and Bar is a family friendly modern bistro where sharing a meal is paramount.  Each dish is presented in a way that promotes sharing, and conversation.  Abode Bistro melds modern cuisine with a Farmers Market feel.  The menu is seasonal and based on what is in peak season.  A full bar is available and seating for private parties up to 150 can be arranged.
Every Friday, Saturday, and Sunday Abode offers High Tea starting at AUD 45.  We suggest trying one of the tea infused cocktails at this modern take on a wonderful tradition.  All tea is served loose leaf, and the desserts have a modern twist giving each one a uniqueness only found at Abode.
Hotel Amenities
The Parkroyal Hotel has a full gym available for use by guests.  A concierge is available to help with golf, massage, restaurant and activity bookings.  A club lounge is available for use by guests for casual meetings and sit downs, and there is a full restaurant and bar.
Special Events
There are seven different meeting rooms available with 394 m2 of meeting space available.  Meeting rooms are available for a number of activities.  Seminars, training sessions, or parties.
Within a Ten Minute Walk
Chinatown
A mere 350 meters away is Chinatown.  Walk five minutes and find yourself amongst some of the best Chinese culture to be found anywhere in Australia.  The food in Sydney's Chinatown is known for being some of the best found outside of Asia.  The shopping available in Chinatown is fantastic and there is definitely something for the entire family.
Some things to keep an eye out for while visiting Chinatown are the traditional markets offering a number of traditional goods for the home, for the kitchen, as well as art and of course tea sets.  Chinese storytellers can be found on Pitt Street bringing the stories of Chinese immigrants to life.  Take a trip into the past.  The Chinatown Night Market is a fabulous place to shop especially during the hotter months of summer.  Shopping in the cool night air can be very enjoyable.
Queen Victoria Building
The Victoria Building is a modern shopping centre with the turn of the century architecture preserved.  Originally built in 1898 to replace the Sydney Markets the Victoria Building has been used for various things throughout its history but since 1984 has been used as a shopping centre.  Pierre Cardin has described the Victoria Building as, "The most beautiful shopping centre in the world "  Come and see for yourself.
Sydney Entertainment Centre – Now known as the Qantas Credit Union Arena
There are a number of shows and concerts going on at the Qantas Credit Union Arena throughout the year.  So far for 2015 some of the highlights are, Lady Antebellum, Billy Idol, Kylie Minogue, Ed Sheeran X, Rod Stewart, The Black Keys, the Spandau Ballet, The Harlem Globetrotters, W Live, and Celtic Woman 10th Anniversary World Tour.  Check out their events schedule for updates and ticket information.
Sydney SEALIFE Aquarium
The Sydney SEALIFE Aquarium is one of the best attractions in Australia.  The Aquarium hosts different events every month and has a myriad of education opportunities for learners of all ages.  They have interactive learning available, and many different exhibits.  It is possible to go diving, and view sharks from beneath as if you were a fish.
Sydney Wildlife World
Next door to the Aquarium you will find the Sydney Wildlife Zoo.  With famous animal encounters you can interact closer with these animals than at any other venue.  The zoo is hosting special events for Easter and other holidays throughout the year.  You can save upon entry to the Zoo and the Aquarium with the Sydney Attractions Pass.
The Parkroyal Hotel in Darling Harbour is centrally located in Sydney's CBD and walking distance to many attractions.  It is a family friendly hotel in an area of Sydney very conducive to having a delightful family vacation.