Brisbane has a great selection of places to stay for every budget and taste, from five star hotels to niche and contemporary boutique hotels. Some of the best accommodation is to be found outside as well as the city centre so transport may be required.
Rumba Beach Resort

Located on the esplanade on Bulcock Beach this contemporary resort is an ideal destination for your coach tour trip to Brisbane.
It is a home from home all apartment destination that can offer suites and two or three bedroom apartments with their own individual living and dining areas. All rooms have whirlpool tubs and their own private balconies.
Also for residents pleasure is an outdoor pool and great restaurants to chose from, whether your taste is Italian, Seafood or Indian cuisine the Rumba Beach resort has it all.
Brisbane Marriott

Situated right on the Brisbane river this high rise hotel offers all the comforts a typical Marriott should offer.
All rooms are hi-tech and offer iPod docks, flat screens and sumptuous marble bathrooms.
The hotel offers a spa and fitness centre as well as an outdoor pool and restaurants.
Location is perfect just a few minutes stroll to Chinatown Mall and all the other attractions the city can offer.
Hilton Hotel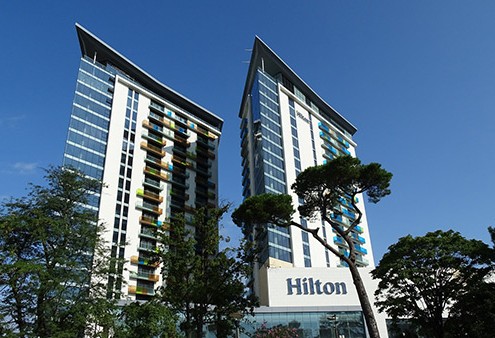 Not your average Hilton, this stylish hotel has been designed by the renown architect Harry Seidler and in true fashion is very modernistic.
It is actually part of the Queen Street Mall and a short taxi ride to the South Bank.
All rooms are well appointed with flat screen TV's and Wi-Fi and generous suites are available on request.
There is a truly chic bar where you can sample a pre-dinner cocktail and a large outdoor pool and leisure centre. The hotel offers superb breakfasts that provide just the perfect start to a traveler's day to explore the sights and delights of Brisbane.
Adina Apartment Hotel

Located in the business area of Brisbane in Anzak square and a short taxi ride to the South Bank. All rooms offer views of the city or the park.
The Adina offers a more homely atmosphere than the large chains and the rooms are cosy but very well appointed. They all offer Wi-Fi, TV, Coffee making facilities and Minibars.
The apartments are large and have kitchen and dining areas, they are well equipped with everything you could possibly want for on your short or long term stay.
There is also a comfortable bar and a friendly restaurant offering local dishes for hungry patrons.
This hotel is well situated for many restaurants, bars and coffee houses and is located right across the road from Central Station. Queen Street mall is only two minutes stroll from this historic hotel.
Getting to and from any of these great hotels is made easier with low-cost mini bus and coach hire from Executive Coach Charter.
When you need the best service at the lowest price, contact our friendly team!