Brisbane offers some of the best conference facilities on the Gold Coast and is an ideal location for your company's A.G.M or shareholders meeting. Some of the locations are ideally serviced by delegates attending by coach or bus as the facilities are geared up to welcome multiple arrivals.
Stamford Plaza Brisbane
A truly impressive conference venue for every type of business meeting you could wish for.
Centrally located the Stamford Plaza offers a staggering 8 conference rooms all capable of handling a simple boardroom set up or a large 320 delegate forum.
The location gives the added attraction of all that Brisbane can offer in terms of accommodation, restaurants and shopping.
Stamford Plaza also offers a 300m ballroom for after conference entertaining and there are numerous outdoor terraces and areas that can offer respite for the weary delegate.
Walkabout Creek Function Centre

A short 12km drive out of the city of Brisbane can be found the impressive Walkabout Creek Function Centre.
The location is idyllic and very unique and is guaranteed to bring the wow factor to any conference or meeting. Walkabout Creek is nestled amid the D'Aguilar National Park adjacent to the South Queensland Wildlife Center. Whether attending a meeting or not Walkabout Creek is definitely worth a visit.
There are two conference rooms to select from both high in the rainforest tree tops. They are both naturally lit and provide a back to nature environment for the delegates. The Banksia can accommodate up to 180 delegates whilst the Ferntree is available for conferences up to 70 attendees.
Walkabout Creek also offers two large outdoor amphitheaters to bring a dramatic effect to any meeting or conference.
The Brisbane Convention and Exhibition Centre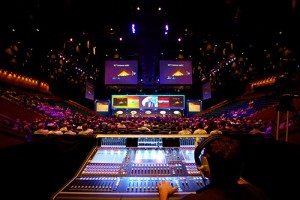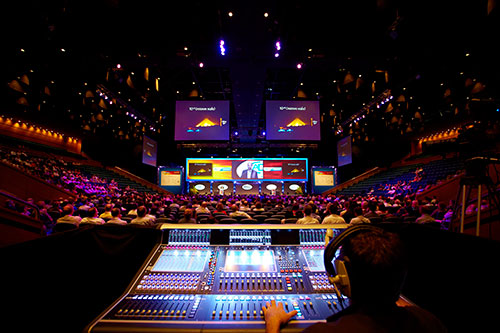 The BCEC is the largest and most prestigious convention and exhibition centre in Brisbane.
Situated in the south of the city the exhibition centre is located around the Grey Street and Merivale Street block. It is serviced by South Brisbane train station but it is only a ten minute walk to central Brisbane.
It is close to all the South Bank of Brisbane can offer from the swanky riverside restaurants to the swimming beach and the impressive Gallery of Modern Art.
The BCEC can offer absolutely everything a modern day conference centre could possibly provide with a total of 44 meeting rooms that can accommodate anything from 8 delegates to a 8000 concert. There is a plethora of coffee venues and restaurants to choose from to suit any taste.
Lightspace
Lightspace is a conference centre with a difference. Situated in the hub of the fashionable Creative District in the Fortitude Valley this meeting / exhibition centre provides a modern and hip aspect to any event. It can be found a short walk from the Emporium and the Gassworks and only minutes away from the city centre by taxi.
Ideal for meetings, exhibitions, functions and even weddings this boutique venue is a converted warehouse and offers lofty designer spaces and even a Japanese inspired terrace.
The main space is named Lightspace 1 and can cater for up to 250 people in a formal meeting set up or 500 people for a reception or cocktail party. There is an adjoining lounge bar and the terrace to offer food breaks or breakout meetings.
This is a meeting venue with a difference and will bring a unique touch and feeling to your big day or function.
Take the stress out of organising your next corporate or conference event. Executive Coach Charter have a range of mini buses and coaches that are ideal for all your group transport requirements.
For a great price, combined with personalised service contact our friendly team today!