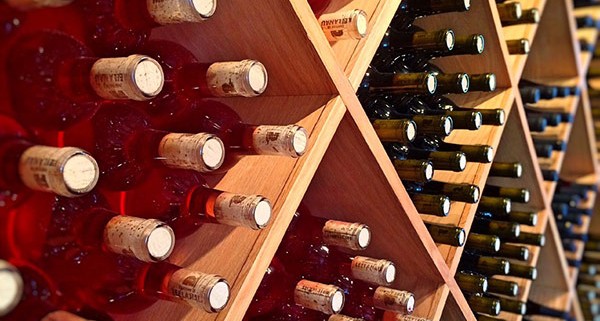 Part of the most enjoyable experiences of visiting wineries and wine estates is settling down after an extensive tour in the cellar door and trying out the delicious wines produced.
Probably the best way to do this is take a chartered coach tour so that excessive sampling does not interfere with any driving duties.
Tempus Two
Tempus Two has a striking cellar door, designed by the highly respected Suters Architects. The impressive pewter entry doors (reflected on their labels) mark the arrival at the modern interpretation of a simple country shed.
It's the perfect place for casual or group tastings and when the lights go down it is possibly the best spot in Pokolbin for music and events.  
Tempus Two also has it's own Cellar Door Series of the wine, it contains small batch winemaking products made only in excellent vintages and in small volumes, exclusive back vintage wines from their cellar.
Allendale
The winery and cellar door are positioned up the hill overlooking Allendale's vineyards stretching all the way down to the creek. Enjoy a glass of something special whilst enjoying the views over the Hunter Valley to the Brokenback mountain range.
Allendale produces a wide variety of wines including; Reds, Whites, Sparkling, Rose, Reserve, Desert and Port. In all there are 24 different wines that you can taste and enjoy.
De iuliis
The de iuliis cellar door is at the heart of the boutique winery situated in the beautiful Hunter Valley. It is a designer modern space that provides a collaboration of both art and engineering and is perfect for sampling their wines.
Framed by the iconic Brokenback mountains, the prestigious cellar door is spacious and filled with natural light. The extra large windows and outdoor deck invite you to soak up the ambience with manicured gardens and native kangaroos.
De iuliis produce some remarkable Shiraz wine as well as some fruity Chardonnay that is also available in sparkling format.
Rosby Wines
At Rosby they have created their very own hand built mud-brick hut overlooking the vineyard and with sweeping views over the Mudgee hills.
Designed as the vineyard's own cellar door it is also available to be hired as a unique venue for outside events.
Rosby has some very special wines to enjoy including their award winning 2009 Cabernet Sauvignon. There are also three vintages of Shiraz and a really good refreshing Rose.
Petersons Vinyard
Situated on a small hill surrounded by vineyards the location is idyllic, with uninterrupted views of Mount Sugarloaf and the Watagan Mountains. Visit the estate and sample some excellent wines.
The best sellers at Petersons wines are; Cuvee Chardonnay, Hunter Valley Chardonnay, Cellar Port and the 2011 Sparkling Cuvee. There is also a really rather special 2012 "Jamie's Pick" Mudgee Cabernet Sauvignon.
If you intend to enjoy drinking as well as tasting the wines on offer at all these Cellar Doors then the best advice is to leave the car at home and charter a minibus or coach to take the strain.
Getting to any of these great venues is made easier by low-cost bus, minibus and coach charter from Executive Coach Charter. Simply tell us when and where you want to go and we will help with the rest!
For more information and to make your booking, contact our friendly team today.