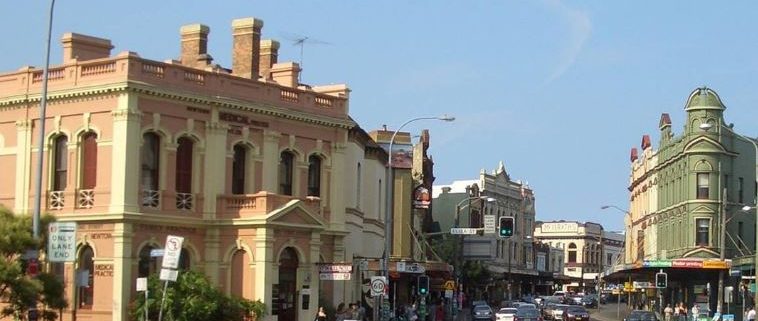 Here at Sydney Executive Coach Charter we regularly take groups to the suburbs of Sydney for all sort of occasions and events. It does not matter if your group is small or large we have a large fleet of vehicles capable of transporting you to any event whatsoever.
In this blog we will be focusing on one of the most popular of Sydney's suburbs, Newtown. And if you are taking a group trip to this great place then contact us to arrange your transportation.
Newtown
Newtown really comes to life when the sun goes down, and King Street comes alive with Bohemian bars, cafes, and clubs. Newtown is famous for live music and some of the best up and coming bands can be seen playing live every night.
Many students flock in their droves to Newtown and there is a really cool vibe to the whole place. If you are looking for lively places to go then check out the Sandringham Hotel or the Vanguard.
The Courthouse Hotel
A real cherished institution for locals is The Courthouse Hotel and most patrons head straight for the sunny and friendly beer garden. The crowd is mixed and you will find blue-collar workers raising a glass alongside students and resident hipsters.
Mary's Burgers
Another Newtown institution is Mary's Burgers and they serve some of the best burgers in Sydney. Mary's has become legendary all over the city, and ever since it opened in 2013 it has transformed the almost derelict Mary Street into a must-visit location.
The Enmore
The Enmore is known as one of the very best live music venues in town. It is situated just a brief stroll down Enmore Road from the centre of Newtown. This famous old venue is supposedly over a hundred years old, and has a large two and a half thousand capacity.
Bands that have played at the Enmore have included, Oasis, Coldplay, KISS, and even the Rolling Stones.
Young Henry's
If you are a lover of craft beer, then a trip to Newtown would not be complete without a visit to Young Henry's. Young Henry's started life in a warehouse in Wilford Street in 2013 and has rapidly become one of the favourite brewers in Sydney.
At Young Henry's you can always find six taps and two hand pumps delivering eight different draft beers. One of the best sellers is the Newtowner Pale Ale which is loved by locals and visitors alike.
The Collective Ensemble
Everybody loves a bargain and Newtown is famous for second-hand clothing stores. One of the very best is The Collective Ensemble which you can find at the southern end of King Street.
The clothes here are very much in the vintage and retro bracket both for men as well as women. Other bargain stores can be found along lively King Street as well.
If you are thinking of going to one of these great places with friends or family then contact Sydney Executive Coach Charter and we will take all the hassle out of your transportation worries.