Sydney has a reputation as a major cosmopolitan city and probably the most chic in Australia. Indeed it's fame exceeds Australia and Sydney it is a global player in the terms of fashion and entertainment.   
The city continues to attract major world fashion brands making the city centre an unsurpassed shopping experience. The are malls, shopping centres, outdoor markets and boutiques splattered all over the city just waiting to tempt you with their wares.
PITT STREET MALL
City Centre
Pitt Street Mall is located in the very heart of Sydney in the Central Business District and is Australia's busiest and most cosmopolitan shopping precinct, boasting retail centres Myer, David Jones, Glasshouse, Sydney Arcade, Mid City Shopping Centre and the Strand Arcade.
It comprises of more than 600 speciality stores just within two blocks of the CBD. There is something for everybody's taste be it fashion, electrical, art, furniture ….the list is endless.
WESTFIELD
City Centre
Located beneath the Sydney Tower right in the heart of the CBD is the Westfield Centre formerly Westfield Centrepoint.It is very much an upscale shopping centre and is operated by the Scentre Group.
Locals and tourists alike love shopping at the Westfield Sydney, it hosts over 250 fashion, lifestyle and food outlets. It offers a mix of top Australian designers alongside international brands all in one building over four floors. It is a convenient one location outlet offering some of the best shopping and dining in the city.
QUEEN VICTORIA BUILDING
City Centre
The Queen Victoria Building, now affectionately known as the QVB was built in 1898 replacing the original Sydney markets that previously occupied the site. As the name suggests it was originally built as a monument to the long reigning monarch.
Originally, a concert hall, coffee shops, offices, showrooms, warehouses and a wide variety of tradespeople, such as tailors, mercers, hairdressers and florists, were accommodated and the QVB occupies an entire city block.
The shopping is upmarket, diverse and covers all the major fashion brands both internationally and Australian.
THE STRAND ARCADE
City Centre
Located in the CBD between Pitt Street and George Street the Strand Arcade is another wonderful example of Victorian architecture. It is the epicentre of style and design and named after London's famous shopping street.
The Strand houses many of Australia's best designer labels, jewellers, gift shops and has many restaurants, coffee shops and beauty salons.
The Strand remains a majestic beauty in the middle of the city's CBD. It houses the Nut Shop, Elie's leather Repair, John Azzi and Strand Hatters. Today the centre is a unique mix of Australian designer fashion and speciality stores for sophisticated clientele.
WORLD SQUARE
City Centre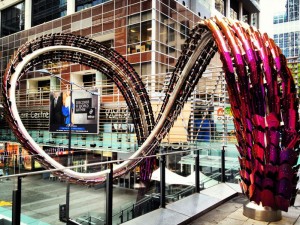 The World Square occupies three levels of an entire city block in the CBD. There are flagship stores for the world famous designer brands including; Armani Exchange, Burberry, Chanel, Gucci, Louis Vuitton, Prada, Versace and even more.
It is high end shopping, stylish and expensive. It also houses entertainment and cultural activities to complement it's thriving business community. World Square is home to more than 90 retailers and has a lively restaurant and lifestyle precinct.
World Square is surrounded by restaurants, cafes, bars and small fashionable eateries that make it a perfect meeting place.
Getting to any of these great shopping centres when travelling in a group is made easier with low-cost mini bus and coach charter from Executive Coach Charter. 
For more information and to make your booking, contact our friendly team today!