5 Beautiful Beaches In Sydney That Tourists Love
Those who visit Sydney shouldn't miss out on the opportunity to relax on a beautiful beach and feel the warm rays of the sun caressing their skin. Luckily, this Australian city features a plethora of exquisite beaches that can be enjoyed by tourists from all over the world. If you are here for the first time, here are some of the most attractive beaches you should visit:
Bondi Beach
Probably the most popular beach in Sydney, the Bondi beach offers everything a tourist would want. For example, it is spacious enough to accommodate a multitude of tourists, surfing and swimming is possible, long walks on the beach are a real joy and there are also tons of bars, restaurants, coffee shops and hotels near the Bondi beach as well.
Coogee Beach
This beach is considered the little sister of the Bondi beach and it is increasingly popular and appreciated these days.  This beach is not extremely crowded, it features a vibrant nightlife, there are multiple bars, restaurants and coffee shops within walking distance and the waters are much calmer and suitable for swimming as well.
Manly Beach
Tourists who visit this beach can enjoy a ride with the ferry in order to admire an exceptional view of the Central Business District. This is also a great opportunity for capturing mesmerizing photos too. Additionally, tourists can also swim for as long as they want here or practise surfing under the close supervision of professional instructors.
Bronte Beach
Sydney visitors who want to enjoy a barbecue should come to the Bronte beach as there is a park in close proximity of the beach that features BBQ pits. Also, swimming is possible here as well and there are plenty of amenities around the beach which should be checked out by tourists.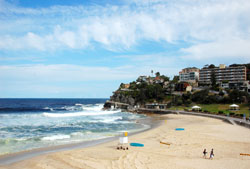 Tamarama Beach
This is a rather small, but very cute and attractive beach and it is particular suitable for surfers and swimmers. Also, there is a park near the Tamarama beach and a coffee shop that is perfect for relaxing and enjoying the view. Additionally, tourists will be simply amazed by the softness of the sand on this lovely beach.
If you are visiting Sydney with your family members and you really want to take advantage of all these wonderful beaches, make sure that you request professional coach hire services from local and reputable companies in order to get to your destination in a safe and convenient way.