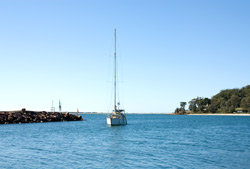 Adventures by Air or by Sea
The Wind and the Sea
Two things nearly synonymous with Australia the wind and the sea.  As the worlds largest island Australia has plenty of both.  With 35,000 km of coastline there are no shortage of activities that take place in the water.  Sailing, diving, water skiing, snorkeling, swimming, stand up paddle boarding and more.  The Sail Port Stephens event happens several times a year and welcomes both experienced and beginning sailors.  
For aerial activities Australia offers quite a few options, like hang gliding, sky diving, Top Gun flights, bungee jumping, kite surfing (a combo of both air & sea) and of course hot air balloon rides.  The Canowindra Balloon Challenge is an annual event in the skies taking place in late March and raises money for charity.
The Sail Port Stephens – 13 – 19 April 2015
Port Stephens is a two and a half hour drive from Sydney and makes for a wonderful day trip.  Charter a private coach to get you there that way you can exhaust yourself having fun and your driver and private coach will get you home again.
In 2006 the idea for an annual Regatta was broached and the Foundation Partners agreed to hold an annual sailing event in Port Stephens because of it's ideal location.  2007 saw the first Regatta.  The inaugural event was a modest event and in 2008 grew to 25 boats.  By 2010 the annual Regatta had grown to 85 boats.  By 2010 boats began travelling from as far south as Melbourne and as far north as Mooloolaba.  Now in it's 8th year the Regatta is a firmly established annual event with fun for experienced sailors and novices wishing to learn.
If you have ever been even the least bit curious about what sailing is all about this event is perfect.  Five days up close and personal with sailors and their yachts.  Enjoy events such as Performance Racing, Performance Cruising, NSW IRC Championships 2015 and even a Junior Sailors division.
For social visitors to the race there are plenty of activities each day.  Friday evening is the welcome party where guests can meet in a casual environment and enjoy casual dining and cocktails.  There will be a myriad of entertainment options through the event, and daily prize drawings.
Saturday is the main racing day and most everyones attention should be focused on the racing spectacle.
Sunday will see the continuation and completion of racing from Saturday.  Following the weekends racing will be the Corona Mexican Fiesta Night.  Enjoy Mexico's signature beer with a dash of salt and a slice of lime, with a number of casual dining options.
Sailing exhibitions will continue through Monday and Tuesday with a daily prize draw.  Then Wednesday the event will wrap up with a formal two course dinner complete with live entertainment and live music.  Bookings are essential at 1800 181810 for the closing of the event as availability is limited.
In addition to the racing weekend there are a plethora of activities suitable for all ages and activity levels.  Port Stephens has many kilometers of sandy beaches where a number of water activities such as parasailing, diving, surfing, swimming, and snorkeling are available.
There is a heritage protected Lighthouse Reserve that offers high tea in the afternoons and incredible views overlooking gorgeous seascapes.  There are nearby islands to explore, and opportunities to go Bushwalking through paradise.
The Canowindra Balloon Challenge – (400 words, what is it, why do they do it, how long have they been doing it, where do they do it, when do they do it)
Four hours inland from Sydney is Canowindra and in 2011 The Canowindra Balloon Challenge returned to the Australian Hot Air Balloon Capital.  This was the first hot air balloon competition held in the area for many years.  In 2012 the Canowindra competition was just heating up, cash was a bit short so the only draw for the pilots was the superb flying conditions of the area.  16 die hard pilots showed up to race for the love of it.  US pilot David Levin joined in during the 2012 race prior to his hosting the World Championship in Battle Creek later in the year.
Piggybacking on the momentum of 2012, the race in 2013 saw near perfect weather and more teams came out to compete.  The competition grew fierce and Canowindra received the honour of hosting the 18th Nationals and 4 teams from the US showed up to race.  Major sponsors joined in helping to propel the competition to the international spotlight.
Now it is 2015 and the Canowindra Balloon Challenge will be bigger and better than ever.  There are currently openings to be part of the Observer Team.  Think you can steer a hot air balloon?  Receive training on map reading, understanding GPS, and become familiar with all the rules and regulations you will be asked to help record and enforce.  The name observer suggests this is a passive job, however a more appropriate name may be competition police.  The role of the Observers is critical to keep the competition fair.  If you would like to be part of the action without competing email directly for more information.
The 2014 event injected nearly $2 million into the Regional economy.  Local schools, charities, and sporting groups who play integral roles in making the competition a reality all stand to benefit from the cash flowing into the region.  The three year play is to host the 2018 World Women's Championships.
By Air or Sea
April 12-19 will be a busy time for Australia's air and sea.  With events sure to entertain the whole family.  Inspire your children with hot air balloons that take to the sky and sailboats that take to the sea.  Two day trips from Sydney to celebrate outdoor activities and have a fun filled family holiday.  Sydney Executive Coach can help you plan all your transport needs.  Whether you want to have a family outing day trip, take a school or sports group to participate or observe either event, or want to do a corporate team building event Sydney Exec has a custom transportation option to fit your needs.  Private minibus charter with driver, or luxury coach with driver, based on the size of your group.  Call us at +61 2 8970 8837 or use our online enquiry form.