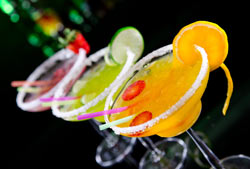 The Ultimate Night at the Opera
Few things are more romantic that a night at the opera for the ultimate date night.  The show is only a short time, and sometimes you must treat yourself to a little more than that.  Here is our idea of the Ultimate Night at the Opera, including a cocktail hour, dinner, show, and late night cocktail after at one of Sydney's replicated speakeasies in the CBD.
Cocktail Hour
We will begin our ultimate night on the town with liquid relaxation, or the perfect cocktail.  Where do you get the perfect cocktail for the beginning of a perfect evening.  How about Blu Bar on 36?  Your private driver will pick you up from your Sydney accommodation or home and take you to The Rocks.  Once there you will head 36 Levels Above the Rocks.  Allow yourself to indulge in the sweeping views as the sun goes down and the colours of Sydney harbour take on twilight.  Sip on your favourite cocktail while watching the Opera house light up.
Blu Bar has a long list of signature cocktails.  The ingredients are top shelf, and the mixologists have the cocktails spot on.  My partner had the "Fields of Gold" such a pirate, it has Mount Gay Gold Rum, apricot brandy, orange, basil, lemon juice and egg white served up.  I had the "Paradise" which had Lychee, pomegranate liqueur, with Martini Prosecco, and it was divine. Be adventurous or stick to your favourite classic cocktail.  Either way you go, you will be thrilled when your cocktail arrives.
Dinner
Can't get enough of the sunset views of Sydney Harbour, the Shangri-La hotel features the Altitude Restaurant.  Continue watching the sky change colours and the lights of Sydney come alive from this incredible vantage point.  The Altitude Restaurant is a multiple award winning restaurant serving Modern Australian Cuisine with a boutique wine list that will impress even the most finicky wine connoisseur.
With a Michelin trained chef like Nathan Griffin it is little wonder why everything on the menu is so tempting.  Chef Griffin focuses on using fresh local ingredients in his modern approach to Australian Cuisine.  Always find out what the chef recommends, this man is a master and you will not be sorry.
Show
Once you have enjoyed your cocktail hour, and your meal it is time for your private coach driver to pick you up and take you to the Opera House.  There are a number of shows during the summer months for all tastes.  Comedy shows, magic acts, true opera, performances by world class pianists, and violinists, ballets and more.  If you have the luxury of living in Sydney and are using our private coach hire for a magnificent date night you can search by What's On, if you are travelling to Sydney you can search by date for events happening while you will be in Sydney.
27 March to 26 April Handa Opera on Sydney Harbour: Aida will show every night of the week except Mondays.  The biggest show ever the grace the Sydney Opera House, Aida promises to be an epic adventure with royal love triangle, war, betrayal, and the peoples love of a monarch.
This amazing show has over 700 people working on it.  You will understand the magnitude when you witness Egyptians en masse light up the waters of Sydney Harbour.
Ballet 2015
Several ballet's will make their way through the opera house throughout 2015.  Giselle, a classic ballet themed around "love conquers death."  Later in the year "The Dream" a ballet where Shakespeare's "A Midsummer Nights Dream" is brought to life by graceful dancers.  And the world premiere of Sleeping Beauty will open at the Sydney Opera House.
After the Show
The show is over but your night does not have to be.  Your friendly private coach driver will pick you up from the Opera House and take you anywhere you want to go.  You can wing it and get suggestions on the fly from your driver.  They are very knowledgeable about the most happening places in town.  Or you can continue to take our advice for the ultimate night on the town.
If it's a weeknight continue your evening to Palmer & Co. a hidden basement bar that has been totally recreated as a 1920s speak easy.  Every detail screams 1920s, and on Friday and Saturday the place gets pretty raucous.  Since this is a date night we recommend this place on weeknights unless you are a raucous couple then weekend nights will be perfect.
For weekend nights the Baxter Inn is a little easier for dates if you can grab a table, or one the ends of the bar.  The Baxter Inn is tricky to find so make sure you tell us ahead of time if you want to go there, and we will give your driver a heads up.  The hidden location really adds to the feel of the classic speakeasy.
Back to your accommodation
You have enjoyed a cocktail overlooking Sydney Harbour and the iconic Sydney Opera House.  You made your way to an amazing dinner with more sweeping views of the Harbour as it transforms from day, to twilight, to night.  Then you experienced an opera, a ballet, or the show of your choice at the Opera House.  Once you have enjoyed your show, continue your night with a classic speakeasy modeled after the 1920s.  Now after all that drinking, dining, revelry, and merrymaking it is time to make your way back to where you lay your head for the evening.
Your private coach driver will pick you up in your luxury coach and get you both back safe and sound.
An alternative to this plan would be to begin your evening later and have your driver through the night into sunrise.  You can book a private driver for the ultimate date night that suits your needs.  Please contact us directly to help work things out.  We love planning surprise engagements, anniversaries, birthdays etc.  Let us help you make the ultimate date for that special someone.