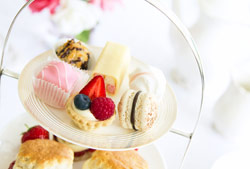 Best places for Tea in Sydney
High Tea is a wonderful British tradition kept alive and well in Sydney and the surrounding Blue Mountains.  Choose the perfect setting from modern elegance fused with traditional elements at the Water Bar, or enjoy cozy fireplaces and understated elegance in the Blue Mountains.  The Victoria Room offers a traditional High Tea in an opulent Victorian setting.  Whatever your pleasure the options for High Tea in Sydney will have you coming back for more.
Water Bar – Blue Hotel, Sydney
High Tea in modern opulence is what you will find when you have afternoon tea at the Water Bar inside the Blue Hotel in Sydney.  Choose from Diamond High Tea, Crystal High Tea, or a more traditional tea set with various Twinings teas to choose from.  Enjoy delicate French pastries, delectable fruits covered in chocolate and a lovely flute of champagne.  More options include Asian inspired barbecued chicken adding a little modern spice to a rich tradition.  The fusion between classic high tea and modern tastes is brought together at the Blue Hotel in a remarkable fashion.
The Victoria Room
Traditional High Tea in a traditional Victorian setting at the Victoria Room.  Enjoy this British tradition in all it's splendor with an assortment of English teas, classic sandwiches on fine pastry, sweet and savory treats, scones and your choice of fruit infused teas, or specialty cocktails such as the Flightless Fairy with a measure of Absinthe, or a flute of Mumm Champagne.  High Tea at the Victoria Room is a splendid way to spend a Saturday or Sunday afternoon.
Sir Stamford at Circular Quay
Enjoy traditional English High Tea daily at Sir Stamford at Circular Quay surrounded by beautiful antiques in an elegant setting.  Choose from an assortment of High Teas to suit all tastes and budgets.  With High Tea and handmade scones starting at only $24 per person, or upgrade to the Elegance High Tea which includes the famous Stamford curry puff, delicious desserts, and a flute of Mumms champagne for $69 each or any number of options in between.
Lilianfels – Blue Mountains
Take to the Blue Mountains and enjoy High Tea overlooking the Jamison Valley at Lilianfels. Delight in handmade scones with home jam, and fresh clotted cream, wonderful finger sandwiches, and savory treats.  Choose to add a flute of sparkling Australian wine or French champagne.  High tea is served daily and due to popularity booking is essential for High Tea in the Blue Mountains.