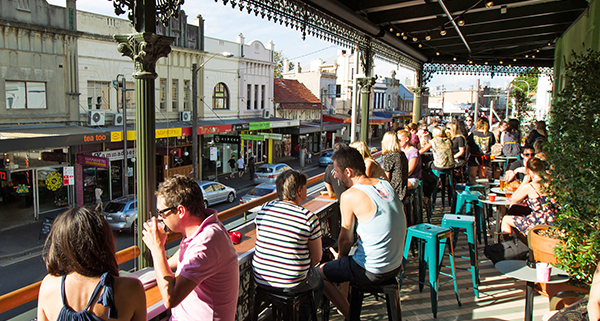 Concord used to be home to the first wave of Italian immigrants that hit Sydney, they settled building brick bungalows and made themselves home by opening one or two espresso shops.
But today, Concord has some of the best restaurants and cafes in the whole of Sydney. The old Italian habit of drinking coffee and eating on the street has not changed, and the modern day resident will take to a sidewalk deli or cafe to enjoy their drink or meal, mostly done on Majors Bay Road.
Each eatery has cashed in on the tree lined street and the electric atmosphere with some charming al fresco eateries.
Restaurants
Wok Chow as the name suggests is a pan-Asian restaurant, signature dishes include scallop har gow and Sichuan spicy fillet cooked in ladles of chilli oil. They have a byo option and also a children's menu. Il Tratto Ra Ro, harking back to its Italian heritage this place is casual and friendly. The pizzas are top drawer but it is the cheese platter that seems to be most popular, the veal is also excellent topped with prosciutto and provolone then cooked in white wine.
A little difficult to find, Sud serves up hearty dishes based on the cuisine of southern Italy. Pasta twists drowned in pork, veal and sausage ragu, mini calzone stuffed with ham and cheese, not good for the waistline but excellent just the same.
Antoine's Grill is more down the fine dining route, the service par excellence. The ribs are a popular choice and are guaranteed to have you licking your fingers after.
Cafes
Oliver Brown is a dedicated chocolate cafe, with a menu filled with fondue, waffles and all things chocolate. Try the hot chocolate, you almost need a spoon to drink it, and of course the obligatory churros.
Espresso Organica is a serious coffee house, they roast the best single origin coffees they can source to create the perfect cup. They also serve breakfast, lunch and dinner, that includes wood fired pizzas.
Frappe is an ultra modern European style cafe, serving both European and Greek street food. The meze platter for two is a great option for those who cannot make up their minds.
The Three Spoons is a quiet cafe situated on a laid back street. They serve basic fare in a friendly and relaxed atmosphere. The French toast is quite amazing and will certainly keep you going to dinner.
Pubs
Hotel Concord has been a centerpiece of the local Concord community since 1930, and continues to be a locals favourite as it offers something for everyone, there is also an extensive wine list.
Set in historic Bakehouse Quarter, site of the original Arnott's Biscuit Factory, Cookie's Lounge Bar offers friendly service in a family friendly atmosphere, great value food, pub priced beers on tap, top local entertainment and a bottle shop.
Concord is a great place for eating and drinking and stopping off for that refreshing espresso or two. The food available is superb and the pubs welcoming.
Getting to and from any of these great locations is made much easier with low-cost mini bus hire from Concord Coaches.
For more information and to make your booking, contact our friendly team today!