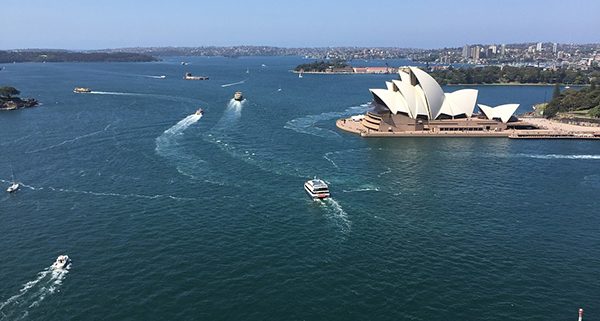 Sydney is one of the world's great cities and is an eclectic mix of buzzing neighbourhoods each with their own particular identifies combining to make Sydney the great metropolis that it is today.
Crows Nest is a harbourside suburb on the lower north shore of Sydney and approximately 4 km from the CBD.
Named for its elevated position being one of the highest points of all of the northern suburbs – Crows Nest is home to a wide variety of restaurants, pubs, cafes and places to see.
Dotted along the Pacific Highway and Willoughby is a plethora of eateries and watering holes from Australian family joints to the more asian influenced cuisines.
Restaurants
If you like your fish then Sapporo is the place for you, not only serving top notch sushi and sashimi they also broadcast live sumo wrestling. Try the edamame (mixed pickles) washed down with a big mug of Asahi super dry beer. Also the nasu dengaku which is eggplant with sweet miso accompanied by some sushi is excellent.
Popular Central Asian Cuisine serves big chunks of meat on what can be best described as swords. The zik kawap charcoal lamb skewers are a given, while the big place chicken named Dapanji is a favourite among the Uighur locals. A hearty noodle type stew of chicken on the bone, potatoes, chilli and capsicum.
The king of the crustaceans is the theme for Johnny Lobster located on Willoughby Road, but rather than serving it up in the traditional manner Johnny Lobster spice it up with chermoula paste which is a north African blend of cumin, lemon, garlic and herbs. The salad that accompanies the Lobster is superb which is a concoction of lentils, cracked wheat, pine nuts, parsley and yoghurt.
Pubs
The Hayberry, is new on the scene, with a rustic timber bar and pictures of Ned Kelly adorning the walls. The music is loud and atmospheric, the cocktails very alcoholic and American beers like Moose Drool brown ale and Big Sky IPA and supported by big burgers and platters of wings.
The Stoned Crow brings something different to the party, it is big and often hosts live bands. The wine list mostly offers Australian blends but it affordable. The pub grub is slightly on the expensive side but portions are big.
A small north-side bar heavy on the craft beers, with a toasty fireplace is how The Foxtrot was described. The wine list is skewed towards lighter Australian drops, and the bar staff are more happy to recommend a good whiskey. Beers on tap include Grifter's Edwards pale ale and Cavalier brown ale. Classics come in Mason jars, lidded, shaken and served tall, complete with a paper parasol.
These top pubs and restaurants are a glimpse into what the Crows Nest area of Sydney has to offer. For those travellers who like to think outside of the box then take a trip out to the northern suburbs you might find it all worthwhile.
If you are planning a party night out in Crows Nest a good idea would be to hire a minibus from Sydney Executive Coach Charter for all your transport needs.