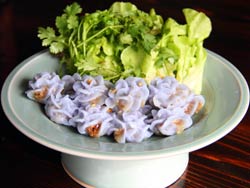 Restaurants in Sydney (1

)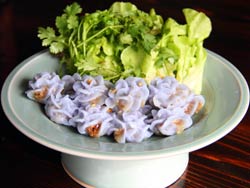 Holidaymakers in Sydney like to try different types of food. There are many restaurants here that specialise in Thai food so why not book a Sydney mini bus to see just what's available? Enjoy amazing tasty Thai dishes such as:-
Miang khum – betel leaves with prawns as well as a coconut and peanut sauce
Chor muang which is steamed dumplings that are made from caramelised peanuts and sweet radish
Salad ped ob – roast duck with celery and a sweet and sour soy sesame dressing
Gaeng keaw wan gai – a truly fantastic green curry with chicken, Thai eggplant, basil and chili
Take a wonderful journey in the food world by trying delicious Thai food which is prepared by professional chefs, always hand-made and uses fresh ingredients every day. Thai restaurants in Sydney also serve superb wines, so chill out, relax and enjoy!
No matter whether you're on vacation or business, dining in a reputable Thai restaurant gives you the opportunity to enjoy food that's certainly different. Using coach hire means you can travel anywhere in Sydney to sample different restaurants and the meals they serve. Chefs offer food with spicy flavours, classic dishes along with a restaurant service that's second to none. You'll be seated in beautiful surroundings or al fresco where you can enjoy fantastic views and even watch the sun go down.
If you're with a group of people, the best way to reach your intended Thai restaurant destination is by mini bus hire. You will arrive safely and won't have the hassle of finding the quickest route as all drivers have a sound local knowledge of the area. Expect a warm service as soon as you step inside the door of the restaurant, just as you would in Thailand. If you're a little unsure of what to order, the friendly staff will help all they can and recommend the best dishes to suit your particular taste.
In Thailand families and friends always eat together so you'll find that Sydney restaurants offer the same. Dine on long tables eating with strangers and get to know new people, you're sure to hear interesting stories as you enjoy your Thai meal. If you prefer to dine in your hotel room or at home if you live in Sydney, take advantage of the delivery services many Thai restaurants provide. You can have an evening in eating:-
Deep friend minced banana, prawns and plum sauce or Tod Mun Goong as it's known
Ga Ri Puff, sweet potato curry puffs served with a cucumber relish
Miang Moo Yang which is grilled, marinated pork, a spicy/sour sauce, all wrapped in a rice paper roll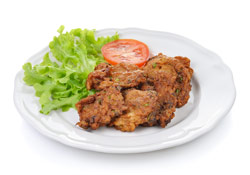 Unwinding after a busy day of sightseeing in Sydney via coach hire by reserving a table in one of the many Thai restaurants means you can spend a relaxing evening enjoying yourself. Thai restaurants in Sydney serve authentic Thai cuisine, staff make you feel quite at home and if you've been to Thailand, they will bring back happy memories of your time there. Whether it's lunch or dinner, there's always an extensive menu to choose from. Some of the more popular dishes are:-
Thai fish cakes
Papaya soft shell crab salad
Golden egg pastry tartlets
Barbecue baby octopus
Tom Yum prawn soup
Vegetarian dishes are also available and just as tasty. Try golden fried spring rolls, curry puffs, chicken flavoured satay or golden tamarind tofu – delicious!
Many Thai restaurants here also provide catering for larger parties of people. If you're celebrating a wedding, anniversary, birthday or special event, organise Sydney coach hire for guests to take them to a Thai restaurant in Sydney. To make your party a truly memorable one, you will experience Thai food at its best. There are usually function menus which you can check out well in advance of the evening itself. Meals which can be gluten free, if preferred, consist of four entrees, four main courses along with amazing desserts. Try Thai ice cream and stunning fruit platters which can be decorated with candles and sparklers. Sydney restaurants create a wonderful Thai ambience to make sure all diners enjoy Thai meals that are the works.
Some Thai restaurants in Sydney specialise in classic and modern Thai cuisine. Many chefs travel to Thailand to learn more about the latest in Thai cuisine, new ideas and inspiration to create meals in Sydney that are a little bit different. Thai cooking usually combines of a range of sweet, sour, creamy and salty flavours making the final dishes unique and imaginative. Take a look at some of the special menus on offer too that comprise:-
Barbecue chicken – pik kai yang
Prawn curry with jasmine rice
Pla rad prik – a deep fried whole fish with sweet chili sauce
Pad cha talay, seafood with lime leaves and peppercorns
Most Thai restaurants have happy hour promotions where you will get prawn crackers with a jug of beer at highly reduced prices. If you and your family use Sydney mini bus hire to take you to a Thai restaurant you can also save cash which means you will have more to spend on a delicious meal. There are many online websites for Thai restaurants that offer useful information about fine dining to Thai street food, so spend some time browsing before making a booking. Wherever you go, the Australians will do their best to serve you with delicious food, served with a smile, just like the friendly Thai people in the Land of Smiles.
To get a taste of Thailand, you just can't beat going to a Thai restaurant if you live in or are on holiday in Sydney. Using reputable coach hire gives you the chance to enjoy a Thai meal and a drink or two without having to drive yourself to and from your accommodation. Enjoy authentic, spicy, fresh Thai cuisine any time of the day or night in Sydney, Australia.